We Need Your Shoes! Let's All Help Soles4Souls Fight Global Poverty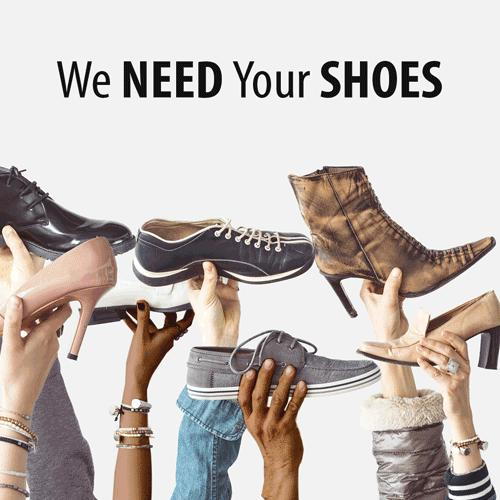 One person's unwanted shoes can help provide meaningful opportunities that many in developing nations need, which is why The Foot & Ankle Center has launched a shoe drive to collect as many pairs as possible of new or gently-worn shoes. The shoes will be delivered to Soles4Souls, a non-profit social enterprise that creates sustainable jobs and provides relief through the distribution of shoes and clothing around the world. 
---
BONUS: Not only will your donation make a big difference to families in need, but you could win a prize! For each pair of shoes you bring in to our clinic for Soles4Souls, we'll give you one entry for the drawing. Drawings will be held on the last business day of each month from Nov. 2019 through Jan. 2020. So, the more pairs of shoes you donate, and the earlier you donate, the more chances you have to win! The prize is a fabulous, medical-grade pedicure in the on-site spa here in our clinic (a $52 value; see official rules).
---
You can make a difference. Millions of pairs of shoes lay idle in people's closets. Give those to Soles4Souls instead, and you'll be taking a step to help disrupt the cycle of poverty around the globe. Donate your new or gently used shoes at our Johnston-Willis office — we're open Mon. - Thurs. 7 a.m. - 5 p.m., and Fridays 8 a.m. - 2:30 p.m. Remember, we have plenty of free parking just steps from our entrance. You can find a map to our clinic on the Johnston-Willis Hospital campus here. 
About Soles4Souls:
Founded in 2006, the organization has distributed more than 30 million pairs of new and gently-worn shoes in 127 countries.
The World Bank estimates that approximately 767 million people live on less than $1.90 per day. Many people living in extreme poverty simply do not have access to stable employment. 
Soles4Souls' micro-enterprise programs offer a long-term solution to poverty through job creation in places like Haiti, Honduras and Sierra Leone. Revenue generated by Soles4Souls' micro-enterprise operations also funds their free distribution programs. These programs provide new shoes to people in need in the U.S. and around the world, and give a second life to unwanted shoes. 
Donated shoes are sold for an average of $1 per pair to nonprofit partners in developing countries, who provide business training to local entrepreneurs. The entrepreneurs then purchase the shoes and start businesses of their own, selling the shoes in their local marketplaces. This allows entrepreneurs to earn a sustainable income and purchase necessities like food, shelter and education. For example:
The income generated from selling just one pair of shoes in Haiti can provide up to five meals for a family in need.
The income from selling 30 pairs in Honduras can provide up to a year of schooling for a child.