Podiatrists in Richmond: Virginia's Most Comprehensive Foot & Ankle Center
If you're struggling with any type of foot or ankle problem, come see our podiatrists! We're on the campus of Johnston-Willis Hospital, with plenty of free parking just steps from our door. Our podiatrists and staff provide total foot care under one roof!
---
NEW Location! We've opened a second office to better serve our patients! Learn more about our new Colonial Heights Office .
---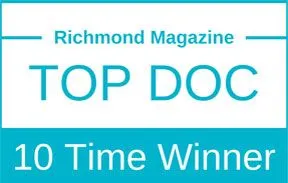 Bunions | Heel Pain | Laser Relief for Foot and Ankle Pain
Medical-grade Nail Spa | Physical Therapy | Fall Prevention and Balance
Custom Orthotics | Diabetic Foot Care & Shoes
Toenail Fungus - Advanced Laser Treatment
---
---

Who are the Best Podiatrists in Richmond, Va.?
For the 10th year, The Foot & Ankle Center has made Richmond Magazine's "Top Docs" list. How do YOU choose the best foot doctor in Richmond? Top Docs 2019
---

The Foot & Ankle Center is in the news!
See our Media Stories.
---
Need a Foot Doctor or Foot Surgeon?
Our podiatrists, Dr. Mitchell Waskin, Dr. Alexander Mount, Dr. Robert Pica and Dr. Sagar Shah, are dedicated to providing the very best podiatric care. We welcome your call at 804-320-FOOT (3668). Or, contact us online or make an appointment.
---

The FOOT BLOG
Recommended post: Top Docs: Choosing the Best Podiatrist for You
---

Managing Diabetes? Focus on Your Feet.
What every diabetic should know about their feet: Visit our Diabetic Foot Care page.